Salmon Fishing Guides Scotland
Welcome to our newsletter page where Scottish salmon fishing updates will be entered on an ongoing daily basis.
Learning how to fish for salmon correctly is a very important factor as a salmon fishing permit on its own is valueless without the water knowledge, fishing ability & correct salmon fishing equipment levels.
We hope you'll book a guided salmon fishing experience in Scotland and become an entry on this web page.
Jock Monteith
2 Sep 2011
River Dee Salmon Fishing
Here's delighted Michael Beckham with a lovely 10 lbs hen fish which he landed withing 2 hours of ever picking up a salmon fly rod and immediately after his first ever Spey casting lesson. Michael's salmon took a size 13 silver stoat on the Invery Beat of the River Dee this morning. Exceptionally well done Michael.
2 Sep 2011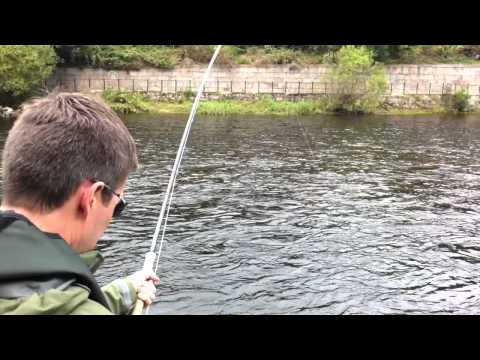 1 Sep 2011
River Tay Salmon Fishing
Here's a lone angler searching the Junction Pool on the River Tay. This is one of these pools that fishes the best when the river is at its lowest water levels.
31 Aug 2011
Scotland Fishing
Here's a lovely downstream shot of the River Tay at Dunkeld. Of all Scotland's salmon fishing rivers the Tay is by far the king of them all.
30 Aug 2011
Salmon Fishing Flies
Here's a tidy selection of salmon flies that all have their moments on the river.
28 Aug 2011
River Tummel Salmon Fishing
Here's the last pool on the River Tummel upstream of Lower Kinnaird's Junction Pool. This sky is more like California than Perthshire !!!
27 Aug 2011
26 Aug 2011
25 Aug 2011
24 Aug 2011