Salmon Fishing Guides Scotland
Welcome to our newsletter page where Scottish salmon fishing updates will be entered on an ongoing daily basis.
Learning how to fish for salmon correctly is a very important factor as a salmon fishing permit on its own is valueless without the water knowledge, fishing ability & correct salmon fishing equipment levels.
We hope you'll book a guided salmon fishing experience in Scotland and become an entry on this web page.
Jock Monteith
2 Oct 2021
Playing A Big River Tay Salmon
When you hook a big fish on the fly make the salmon work for its money by keep good vertical rod pressure on the fish throughout the fight. If you don't do this the salmon will takes ages to land and ruin your chances of a double if a run of fish have just appeared in the pool. The secret is to ease off the vertical rod pressure as the fish pulls away and never let the rod tip drop where the salmon can get a sudden heavy pull at the hook hold or leader.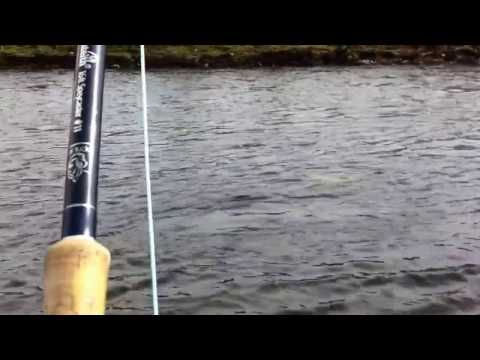 1 Oct 2021
Catch Salmon On The River Tay
Here's the size and beauty of what are often encountered on Scotland's bigger salmon fishing venues. This perfect heavyweight salmon was caught during the month of March on the famous River Tay and was one of two fish virtually identical to one another that were landed by this young salmon fisher on day one of his introduction to Scottish salmon fishing. The Tay is especially well known for big fish and is still the home of the British record salmon.
30 Sep 2021
April Salmon Fishing On The River Tay
Here's a fine shot of a River Tay salmon that was intercepted on the fly at the mouth of the River Tummel during the Spring month of April. These days I personally favour April over all other Spring months which is likely something to do with the changing seasonal temperatures which can influence when salmon run the Scottish rivers. 10 years ago May was my favourite Spring month so stay flexible in your fishing thoughts as everything changes in life.
29 Sep 2021
Book Your Spring Salmon Fishing
This is a great time to secure your Spring salmon fishing for 2022 as if you leave it too late the best salmon fishing venues will be gone as salmon beats only release very limited daily fishing access typically to between 4 & 6 fishers to eliminate an over fishing scenario. Many fine fresh run salmon have already been caught on the rivers Tay, Dee & Tweed so we are now officially in the most exciting part of the Scottish salmon fishing season.
28 Sep 2021
Learn To Fly Fish On The River Tay
I've always maintained that the traditional Spey cast is the easiest cast of them all to master. The key components of that statement are however 100% based on having an instructor who can clearly communicate & demonstrate the logic behind the lift, the swing & the power stroke which are the 3 stages of the Spey cast. This cast can be perfectly explained in under 10 seconds so a good instructor should have your technique perfected within 30 minutes.
27 Sep 2021
Salmon Fishing Tuition In Scotland
Don't think for one minute that catching a salmon is going to happen without a full understanding of the tactical approaches that are necessary for success in this fine pursuit. A wild Atlantic salmon is an 'escape & evasion' specialist that on many occasions likes to slip into 'invisible' mode. Book a professional salmon fishing guide to show you how to optimise your chances of contact on a fly rod with one of these highly prized Scottish gamefish.
26 Sep 2021
Scottish Salmon Rivers
Scotland is very fortunate to possess some of the most famous salmon fishing rivers in the world. Names like Tay, Spey, Dee & Tweed resonate globally within all Atlantic salmon fishing circles as they are truly renowned salmon fishing destinations. Pairing your visit to the best Scottish salmon rivers with the finest professional salmon river guides is equally is as important as is the seasonal timing of your Scottish salmon fishing trip for the optimal chance of success.
25 Sep 2021
Catching Salmon On A Fly Rod
Here's another fine & partially sunlight illuminated fresh run River Tay Spring salmon which was caught in the middle River Tay area during the month of May. While catching salmon is great it is by no means an easy thing to do and requires a serious thought process along with a good grounding in fishing skills to achieve this end result. A professional salmon guide who has spent a lifetime observing these creatures will accelerate the learning curve.
24 Sep 2021
River Tay Salmon Fishing Hot Spots
Making sure you're on a top Scottish salmon fishing venue that ties in with the seasonal salmon run timings obviously plays an important role for achieving success in this amazing pursuit. Pairing that logic up with a professional salmon fishing guide who's on top of their game also significantly increases your chances of action. This picture is of one such River Tay salmon fishing hot spot that is a 'top level' salmon fishing location between Dunkeld & Pitlochry.
23 Sep 2021
The Magical River Tay
There's highly potent environmental magic in the riverbank scenery of the River Tay and especially in the middle valley area between the Perthshire towns of Pitlochry & Dunkeld. This lovely shot was taken slightly downstream of the River Tummel/Tay confluence which is indeed a special area of the valley and one where many pristine salmon are landed each year. Book a guided River Tay salmon fishing experience and feel this magic for yourself.