Salmon Fishing Guides Scotland
Welcome to our newsletter page where Scottish salmon fishing updates will be entered on an ongoing daily basis.
Learning how to fish for salmon correctly is a very important factor as a salmon fishing permit on its own is valueless without the water knowledge, fishing ability & correct salmon fishing equipment levels.
We hope you'll book a guided salmon fishing experience in Scotland and become an entry on this web page.
Jock Monteith
28 Apr 2022
Unlock Your Natural Instincts
Somewhere in our evolution we will all have been totally dependent on catching fish for survival as the oceans significantly outsize the land masses of earth. Quality time in the perfect surroundings of the salmon river will more than likely call deep into your soul and remind you of a calmer more satisfying way to exist. Book a professional salmon fishing guide for a day or more on the beautiful salmon rivers of Scotland and unlock your natural fishing instincts.
27 Apr 2022
The Most Famous Salmon Pool In Scotland
While Scotland certainly benefits from some of the most famous salmon rivers and individual salmon pools in the world this one certainly takes a bit of beating. This is the beautiful Boat Pool on the River Tay's Glendelvine Beat which is the exact pool that produced the British rod caught record salmon of 64lbs back in distant 1922 which was caught by lady salmon fisher Georgina Ballantine. On a personal basis I know huge salmon still run the Tay as I've seen enough hard proof over recent decades.
26 Apr 2022
Learn To Fish For Salmon In Scotland
Scotland has a truly amazing network of famous salmon fishing rivers to explore and some of the finest professional salmon fishing guides to make sure you're fishing the correct areas of the rivers with the optimal salmon fishing tactical approach. The value of a professional salmon fishing guide should never be underestimated as salmon are seldom easy to catch even when many are present in the Scottish rivers.
25 Apr 2022
Catching Memorable Salmon
There's an amazing natural high achieved by the successful capture of a perfect fresh run heavyweight salmon and make no mistake about that fact. While this is always the main objective in Scottish salmon fishing don't underestimate the tact & skill levels required to not only position you over known salmon lies but equally importantly how to cover the water correctly and exactly how to deal with the take from a salmon when that inevitably happens.
24 Apr 2022
Catching Big River Tay Salmon
We will soon be into the vey special Spring period of the River Tay salmon fishing where the fish of a lifetime is a distinct possibility. Nothing beats the beauty and power of a heavyweight Spring fish from Scotland's premier salmon fishing river. Make no mistake about the fact that these very special heavyweight salmon are present in the Tay and can be caught with a correct and tactfully thought out fishing approach.
23 Apr 2022
Playing A River Tay Salmon
It is important that you fully understand the correct ways to play a salmon and that includes knowing how to identify an area of the riverbank which is suitable for this purpose. It is also important to know exactly how much pressure to apply to the fish and the correct rod angle. If a salmon is played correctly they are always successfully landed assuming you've been effectively taught how to set the hook in the first place which from what I've seen in over 3 decades is the biggest grey area of all in Scottish salmon fishing.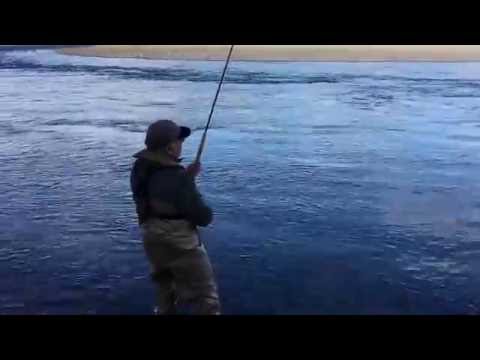 22 Apr 2022
Salmon Fishing River Craft
Pursuing salmon in Scotland or in the vast majority of Northern Hemisphere countries is a perfect challenge where skill, patience and consistency of approach are all necessary components for a successful outcome. There's no instant gratification in this fine pursuit and I personally hope there never is as that would dilute the thrill of success when you bring all of the above attributes together. Learn to properly fish for salmon via a day on the river with a professional guide.
21 Apr 2022
20 Apr 2022
The King Of Fish
Here's a prime example of what a fresh run Scottish Spring salmon from the famous River Tay looks like. There's absolutely nothing in the natural world that comes anywhere close to the excitement of catching one of these amazing fish on a fly rod and make no mistake about that hard fact. It does however require a good degree of skill & understanding to hit objective and that is made far most likely if you're in the company of a professional River Tay salmon guide.
19 Apr 2022
Fishing The Correct Salmon Fly
You cannot beat good old personal faith when it comes to salmon fly selection. If you've no real faith in the salmon fly you're using it will ultimately effect your fishing effort. Faith is derived only from multiple salmon captures so there is no short cut but once you've achieved that and personally witnessed the consistency of a fly's salmon attracting ability then a true life long relationship has indeed begun.