Salmon Fishing Guides Scotland
Welcome to our newsletter page where Scottish salmon fishing updates will be entered on an ongoing daily basis.
Learning how to fish for salmon correctly is a very important factor as a salmon fishing permit on its own is valueless without the water knowledge, fishing ability & correct salmon fishing equipment levels.
We hope you'll book a guided salmon fishing experience in Scotland and become an entry on this web page.
Jock Monteith
1 Jul 2020
Free Spirit Salmon Fishing
There's something to be said for being out on a salmon river where it's just you and Mother Nature in pursuit of one of her finest creations. Unleash yourself on the wild Atlantic salmon rivers of Scotland and set free your spirit for a day or two. If you do you'll feel like a true weight has been lifted off your shoulders and if you arrange this with a professional salmon fishing guide you'll very likely stay in this fascinating natural pursuit for life.
30 Jun 2020
Playing A River Tay Salmon
Once you master the skills involved in getting to the point where you can hook a salmon it is then equally important that you know how to play & land your salmon. Never ever try to hold a salmon when it starts pulling away as the excessive strain on the hook hold and leader will almost certainly end up in the loss of your fish. When you feel the fish pulling release your hand from the reel and let it take line keeping the rod tip high to avoid your fly line being drowned.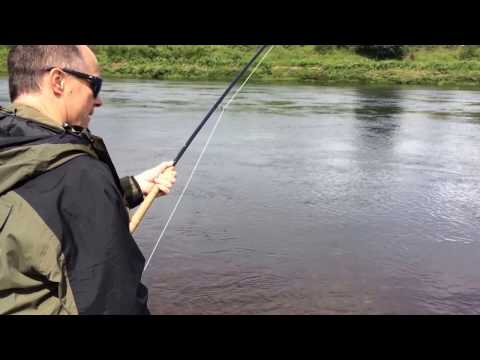 29 Jun 2020
Fishing Your Salmon Fly Correctly
There's a huge difference between swimming your salmon fly optimally down through a pool in a controlled manner or just letting it do its own thing in the steam. True success in Scottish salmon fishing is achieved by taking total control of your salmon fly and focussing 100% on exactly how it is behaving from the moment it lands in the river until it's time to be recast again. Take your salmon fishing approach seriously and learn exactly how to be effective.
28 Jun 2020
Effective Salmon River Fishing
Unless you understand what works best while trying to make a creature that is not technically feeding in the river to take a fly then you'll not be maximising your approach. It's a predatory reaction you are looking to obtain from a salmon while fishing for them so it's the first or second swing of the fly near that salmon that's most likely to make the fish take. Space each individual swing of your fly out by 3ft and stick with it and eventually you'll locate a taking salmon.
27 Jun 2020
Salmon Fly Fishing On The River Tay
This is not only the most exciting pursuit to become involved in but by far the most rewarding when one of these fine specimens is at your boots in the landing net. Book a guided River Tay salmon fishing experience and give yourself a quality introduction to this sport. Having good salmon fishing skills is important to make sure you're in with a chance of success and not just wasting your time on the riverbank so make sure you master the proper skills.
26 Jun 2020
A Flash Of Silver On An Overcast Day
Even on the most overcast Scottish day the flash of silver and the commotion from a fighting fit fresh run salmon is enough to brighten up the dullest of days. This was the second perfect salmon landed by this fortunate client on a visit to the lower River Tay. Weather conditions don't matter at all to a fresh run salmon if your riverbank movement is good enough to eventually swing your salmon fly in front of one (or two as the case may be).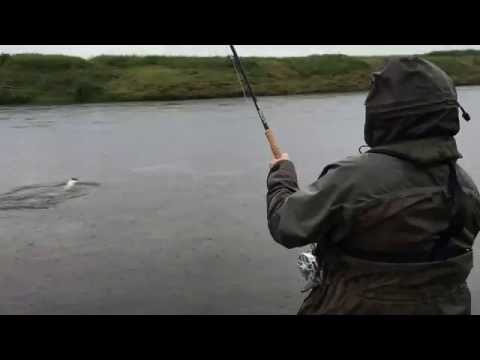 25 Jun 2020
Guided Salmon Fishing In Scotland
If you're new to this magnificent pursuit or have been in the business for a while but lack success booking a professional salmon guide for a day will give you a good grounding in the correct tactical basics to ensure you catch salmon consistently. There's much more involved in outsmarting salmon than the vast majority of fishers understand and anything short of the proper fishing approach and water coverage will simply not produce the desired end result like you see here.
24 Jun 2020
River Tay Salmon Fishing
Look at this for a brilliant shot of a special natural light show from Mother Nature herself. The moods of the river are totally fascinating and play a big part of the enjoyment of any salmon fisher's day. Often during these light & temperature changes salmon will switch on and become more interested in taking a fly. My advice is to not only enjoy the beauty of the riverbank but also to tune into significant changes as they may well trigger a salmon to take.
23 Jun 2020
Tactical River Tay Positioning
If you're looking to catch a salmon on the River Tay then there's no better place to be fishing than the immediate area around the mouth of the River Tummel where it meets the Tay. The Tummel is a renowned Spring river and especially through the months of April, May & June. Don't guess the best location to fish and seek the advice of an experienced professional who's served his time on the river to make sure your venue selection is just right.
22 Jun 2020
Catch A River Tay Salmon
There's serious tactical awareness & skill required to catch a wild Atlantic salmon on a fly rod and much more than most people will realise. Learning how to cast a double handed salmon fly rod only makes up a small part of these skills as good riverbank movement and knowing how to effectively react to he take from a salmon is rare knowledge from what I've seen. Even these basic essential salmon fishing skills are insignificant compared to learning where salmon are usually found and adopting a sub surface focus.