Salmon Fishing Guides Scotland
Welcome to our newsletter page where Scottish salmon fishing updates will be entered on an ongoing daily basis.
Learning how to fish for salmon correctly is a very important factor as a salmon fishing permit on its own is valueless without the water knowledge, fishing ability & correct salmon fishing equipment levels.
We hope you'll book a guided salmon fishing experience in Scotland and become an entry on this web page.
Jock Monteith
27 Jun 2022
Unlock Your Natural Instincts
Somewhere in our evolution we will all have been totally dependent on catching fish for survival as the oceans significantly outsize the land masses of earth. Quality time in the perfect surroundings of the salmon river will more than likely call deep into your soul and remind you of a calmer more satisfying way to exist. Book a professional salmon fishing guide for a day or more on the beautiful salmon rivers of Scotland and unlock your natural fishing instincts.
26 Jun 2022
River Tay Salmon Fishing Hot Spots
Making sure you're on a top Scottish salmon fishing venue that ties in with the seasonal salmon run timings obviously plays an important role for achieving success in this amazing pursuit. Pairing that logic up with a professional salmon fishing guide who's on top of their game also significantly increases your chances of action. This picture is of one such River Tay salmon fishing hot spot that is a 'top level' salmon fishing location between Dunkeld & Pitlochry.
25 Jun 2022
Salmon Pool Approach Tactics
Another important part of salmon fishing that can be a deciding factor between success and failure in this sport is learning exactly how to approach each salmon pool you encounter. Being able to identify likely salmon holding areas in any pool then adjust your fishing approach with great care & thought to give you the optimal chance of catching salmon are vital components in this business. Learn this fishing skill on a fully guided salmon fishing experience.
24 Jun 2022
Salmon Fishing Instruction
In Scottish salmon fishing anglers are all mainly self taught and have picked up fishing skills and in many cases bad habits too. In salmon fishing the most important skills are being able to present a salmon fly and control that fly, separate each swing of the salmon fly effectively and exactly how to set the hook when you effectively cover enough water to earn that moment. If you want an effective start in this business book a salmon fishing guide to show you how.
23 Jun 2022
Be One Step Ahead Of Your Salmon
When you hook a salmon regardless of whether it takes off like a train downstream or fights right opposite you should be scanning the riverbank terrain for a suitable area to play & eventually land the fish. That type of area should have a gentle flow out of the heavy stream with some reasonable obstruction free depth. You'll land a salmon much more quickly if you can do this rather than allowing the fish to kite about in a heavy water pressure stream.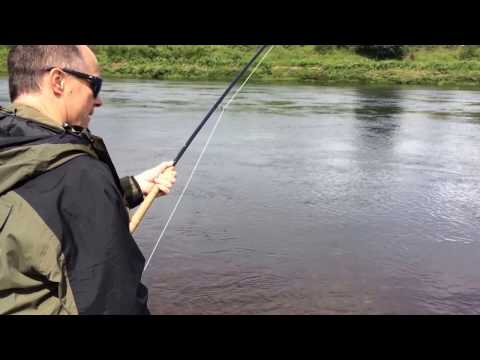 22 Jun 2022
Be Taught How To Fish For Salmon
There's nothing in the natural world that I've ever seen that comes close to the thrill & excitement of catching a wild Atlantic salmon on a fly rod. This is a delicate objective to achieve but it is made much easier if you're involving the professional services of an expert Scottish salmon fishing guide. Treat yourself to a tussle with the 'King of Fish' this year on one of Scotland's beautiful salmon rivers. Follow this link for guided salmon fishing package details.
21 Jun 2022
Playing A River Tay Salmon
It is important that you fully understand the correct ways to play a salmon and that includes knowing how to identify an area of the riverbank which is suitable for this purpose. It is also important to know exactly how much pressure to apply to the fish and the correct rod angle. If a salmon is played correctly they are always successfully landed assuming you've been effectively taught how to set the hook in the first place which from what I've seen in over 3 decades is the biggest grey area of all in Scottish salmon fishing.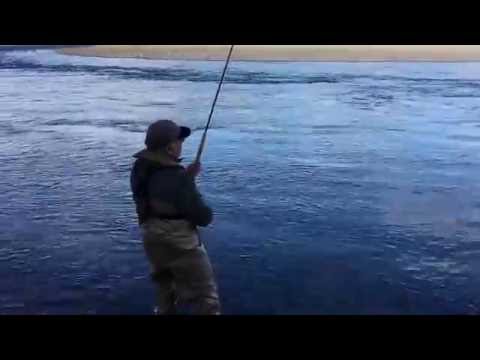 20 Jun 2022
Learning To Salmon Fly Fish
There's immense satisfaction in delivering a perfect line to the salmon river and in controlling your fly over the likely salmon holding areas of a pool. Being taught by a professional guide goes a long way towards success in salmon fishing but only if the guide is on top of their game and is a good communicator. Book a guided & instructional Scottish salmon fishing experience with one of Scotland's finest professionals and get off the salmon fishing starting block quickly.
19 Jun 2022
River Tay Fishing Huts
There are many differing styles of hut used these days and many of the newer styles are of Scandinavian design origin. For many years I operated out of an original Victorian hut which had formally been a curling pond hut before it was transported to a new location beside the River Tay and a full renovation carried out. Nothing beats having a well appointed salmon fishing hut to change or dry out in beside a wood burning stove and a kettle.
18 Jun 2022
God's Finest Fishing Arena
Here's a lovely shot from the River Tay which was taken during March. I love it during the colder Spring months when the sunlight breaks through the clouds and creates a shimmering light effect on the surface of the river as you can clearly see here. That little bit of added warmth in the air goes a long way in early season salmon fishing and can often triggers a take or two from Spring salmon as was the case moments before this fine shot was taken.