Salmon Fishing Guides Scotland
Welcome to our newsletter page where Scottish salmon fishing updates will be entered on an ongoing daily basis.
Learning how to fish for salmon correctly is a very important factor as a salmon fishing permit on its own is valueless without the water knowledge, fishing ability & correct salmon fishing equipment levels.
We hope you'll book a guided salmon fishing experience in Scotland and become an entry on this web page.
Jock Monteith
27 Nov 2021
When A Salmon Runs
The important part when playing a salmon is to keep the rod as high as possible to act as a shock absorber against sudden movements from the fish and as importantly to stop the salmon from drowning the fly fine which can place too much pressure on the hook hold. In addition to this never ever try to stop a salmon from running when it wants to go as it will end in a broken leader and lost fish. You can clearly see from this video the immense power a running salmon possesses.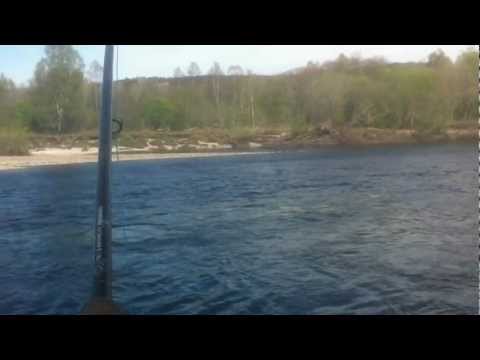 26 Nov 2021
25 Nov 2021
Working Your salmon Fly
Fishing a salmon fly that's got the movement of a 'live' creature is always certainly going to give you a salmon fishing advantage. If you tie a salmon fly with softer materials it will indeed create its own life like appearance in the flow of the river. Adding sudden inconsistent tweaks into the swim of the fly coupled with this natural movement will almost certainly separate your fly's behaviour from others that are being swum on the same salmon beat that day.
24 Nov 2021
Free Spirit Salmon Fishing
There's something to be said for being out on a salmon river where it's just you and Mother Nature in pursuit of one of her finest creations. Unleash yourself on the wild Atlantic salmon rivers of Scotland and set free your spirit for a day or two. If you do you'll feel like a true weight has been lifted off your shoulders and if you arrange this with a professional salmon fishing guide you'll very likely stay in this fascinating natural pursuit for life.
23 Nov 2021
Searching For The Salmon Lie
Knowing exactly where to focus your attention on a salmon river plays a big part in creating a successful outcome. Take a look at this shot of the one of the fine River Tay salmon pools and you'll see that perfect dark deep pool tail water directly above a fast shallower stream. This is exactly where a running salmon will stop after the exertion of swimming up through the fast water. Often however when you hook a fish at the tail of a pool the first thing it will do is a U-turn back from where it came from!
22 Nov 2021
Catch A Perfect Spring Salmon
There's no mistaking the fact that a fresh run Scottish Spring salmon is the most treasured achievement in fresh water angling and especially if you've managed to coax it out on the fly. The River Tay in Perthshire is a great venue to achieve this on as the Tay has a very consistent run of Spring salmon these days. Follow this link for detailed information on our professionally guided River Tay salmon fishing package.
21 Nov 2021
Hooking Scottish Salmon
One of the most important parts of Scottish salmon fishing is understanding exactly how to deal with the take from a salmon and why you should never ever react too quickly. Thousands of salmon hooking opportunities are lost on the Scottish rivers each year because this simply and logical skill is not known by anglers or taught properly by inexperienced salmon guides. Follow this link for more information on our quality assured Scottish salmon fishing guided days.
20 Nov 2021
Salmon Fishing Gift Vouchers
Treat a colleague or loved one to a quality introduction into the fascinating world of Scottish salmon fishing. Full equipment is supplied along with tactical tuition from a top professional salmon fishing guide with access to a prime Scottish salmon fishing venue. Nothing beats a professionally conducted introduction to this amazing pursuit. Follow this link for more details on our guided salmon fishing packages and take the guesswork out of the equation.
19 Nov 2021
Fishing Your Salmon Fly Correctly
There's a huge difference between swimming your salmon fly optimally down through a pool in a controlled manner or just letting it do its own thing in the steam. True success in Scottish salmon fishing is achieved by taking total control of your salmon fly and focussing 100% on exactly how it is behaving from the moment it lands in the river until it's time to be recast again. Take your salmon fishing approach seriously and learn exactly how to be effective.
18 Nov 2021
Salmon River Fishing Stealth
Learning how to approach a salmon pool plays a big part in success as far too many salmon fishers make the big mistake of charging straight into the pool to deeply with their chest waders on without realising the damage they're doing to their chances of success. If you study this picture the correct wading line should be 30ft back from the deep dark water seam in other words a minimum of 2 rod lengths so as not to spook any resident salmon that may be present.