Salmon Fishing Guides Scotland
Welcome to our newsletter page where Scottish salmon fishing updates will be entered on an ongoing daily basis.
Learning how to fish for salmon correctly is a very important factor as a salmon fishing permit on its own is valueless without the water knowledge, fishing ability & correct salmon fishing equipment levels.
We hope you'll book a guided salmon fishing experience in Scotland and become an entry on this web page.
Jock Monteith
27 Mar 2017
Landing A Scottish Salmon
Once you've hooked and are playing a salmon the last thing you want to do is start chasing it up and down the river with a landing net when the fish is still in control of the fight. Even a ghillie prematurely standing with the landing net at the ready will put a salmon fisher under pressure to try to land the fish quickly and this is when problems can arise. The last thing you should be reaching for is the net and you'll know if your patient when the time is right.
26 Mar 2017
Catching A Spring Salmon On The Tay
Here's a fortunate client yesterday with a beautiful 10lbs Spring salmon that was caught during late afternoon on the lower River Tay. This guest came to the Tay last Spring and caught 2 beautiful salmon so this perfect addition was his third encounter with the 'KIng of Fish'. Booking a professional salmon fishing guide to 'overwatch' your approach and adjust tactics when necessary is often going to be the difference between success or failure in this amazing sport.
25 Mar 2017
Playing A Powerful Tay Salmon
The important thing to remember when playing a fish is to not try to rush the fight as when you try to overpower a salmon it will fight back twice as hard increasing the chances of your fish throwing the hook. The fight should be fun so take your time and enjoy the sound of the reel and feeling the salmon's power. You'll know when your salmon is ready to be landed as it will start showing its flanks at close range and that is the correct time to reach for the landing net.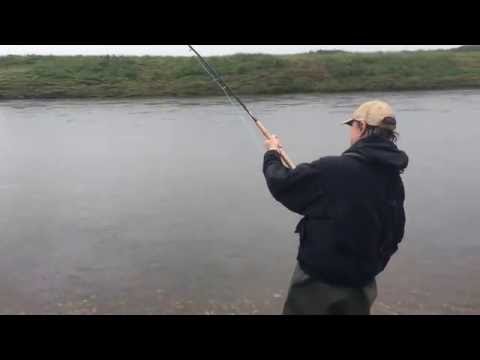 24 Mar 2017
Scottish Spring Salmon Fishing
Here's another great example of one of our perfect early Spring salmon which was caught on the River Tay. Taking the time to be properly introduced to this amazing pursuit will keep you in the game for life as fast track relative information is the key to getting effectively launched. A professional time served salmon fishing guide who has spent his career steeped in Scottish salmon fishing is best placed to be in charge of your launch for obvious reasons.
23 Mar 2017
A Perfect Scottish Salmon
Take a close look at this beautiful & perfect marine predator. The Atlantic salmon is indeed a 'special' creature and has has the most amazing life cycle that takes it from the humble headwaters of the Scottish rivers as a juvenile of to the rich feeding grounds off the vast coast of Greenland where it returns from as an adult. When you catch one of these it's important to have respect for this amazing creature and release it back to the river so it can repopulate.
22 Mar 2017
Playing Your First Salmon
It's always fantastic as a professional guide to see a client catching their first ever salmon. Taking your time and getting into a side on position for the fight are important factors as is the high rod tip and not trying to go for the fish too early with the landing net. Most of these elements are discussed or visible in this short clip of this perfect fresh run River Tay salmon being played by this Russian client. Sometimes if there's a language barrier as was the case here we still get there in the end.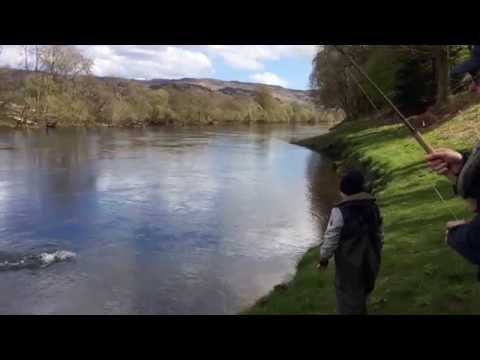 21 Mar 2017
The Lure Of Scottish Salmon Fishing
From our true origins as 'hunter gatherers' our instincts & senses are nowhere near as functional as they once were during these modern day times of concrete & microchips. The entire ethos of Scottish salmon fishing puts us back into a mind set where you're living off your senses which once would once have been vital for survival. Stalking a wild creature that can navigate home from Greenland's rich feeding grounds is the ultimate fly fishing challenge.
20 Mar 2017
The Importance Of Good Riverbank Movement
It's a big misconception to think that to continually cover an area of a salmon pool where fish are showing will result in you catching one. This is a game of 'reverse psychology' where more often than not the less you show a salmon of your approaching fly the more likely you'll get a reaction in the form of a take. With this in mind it is best to separate each swing of the fly by at least a few feet and that way you'll also benefit from great water coverage too.
19 Mar 2017
The Perfect Salmon Fly
There's nothing in salmon fishing that beats being in the 'right place at the right time' when there's a fresh run salmon in the pool you're fishing as it's more than likely is going to take whatever you offer it. During times when salmon have switched their cooperation levels off a bit then is the time to fish a fly that you've proven to yourself that works during the tougher fishing periods of the season. Having this 'faith' in your fly choice is an important part of the game.
18 Mar 2017
A Tussle With Some Greenland Muscle
This is what a superbly conditioned heavyweight River Tay Spring salmon looks like. To maximise your chances of catching a heavyweight fish like this in Scotland then the Tay is undoubtedly the best big fish venue. I could write for hours on encounters with salmon of this size and much bigger that I've witnessed over the decades as each experience stays in your head's hard drive indefinitely. There are also many big pools on the River Tay's amazing salmon beats that just tell you this is big fish territory.