Salmon Fishing Guides Scotland
Welcome to our newsletter page where Scottish salmon fishing updates will be entered on an ongoing daily basis.
Learning how to fish for salmon correctly is a very important factor as a salmon fishing permit on its own is valueless without the water knowledge, fishing ability & correct salmon fishing equipment levels.
We hope you'll book a guided salmon fishing experience in Scotland and become an entry on this web page.
Jock Monteith
22 Oct 2020
Salmon Fishing Tuition In Scotland
Don't think for one minute that catching a salmon is going to happen without a full understanding of the tactical approaches that are necessary for success in this fine pursuit. A wild Atlantic salmon is an 'escape & evasion' specialist that on many occasions likes to slip into 'invisible' mode. Book a professional salmon fishing guide to show you how to optimise your chances of contact on a fly rod with one of these highly prized Scottish gamefish.
21 Oct 2020
A Flash Of Silver On An Overcast Day
Even on the most overcast Scottish day the flash of silver and the commotion from a fighting fit fresh run salmon is enough to brighten up the dullest of days. This was the second perfect salmon landed by this fortunate client on a visit to the lower River Tay. Weather conditions don't matter at all to a fresh run salmon if your riverbank movement is good enough to eventually swing your salmon fly in front of one (or two as the case may be).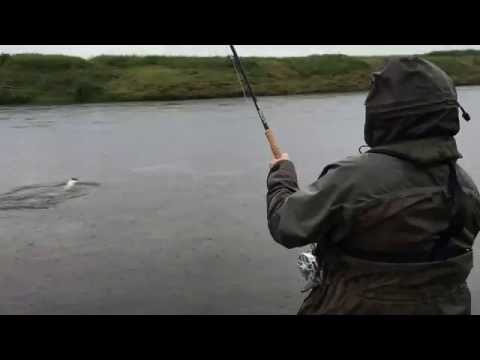 20 Oct 2020
The Mighty River Tay
There is a great sense of awe and anticipation when you take a good look at Scotland's most famous salmon fishing river. Even during low water conditions the Tay is in a league of its own for width & depth of channel and this fabulous river never gets too low where salmon cannot run unlike other shallower Scottish salmon rivers which struggle during low water. Now that we're into June with fishing restrictions lifted this is indeed an exciting time.
19 Oct 2020
Catch A Perfect Spring Salmon
There's no mistaking the fact that a fresh run Scottish Spring salmon is the most treasured achievement in fresh water angling and especially if you've managed to coax it out on the fly. The River Tay in Perthshire is a great venue to achieve this on as the Tay has a very consistent run of Spring salmon these days. Follow this link for detailed information on our professionally guided River Tay salmon fishing package.
18 Oct 2020
Catch A River Tay Salmon
There's serious tactical awareness & skill required to catch a wild Atlantic salmon on a fly rod and much more than most people will realise. Learning how to cast a double handed salmon fly rod only makes up a small part of these skills as good riverbank movement and knowing how to effectively react to he take from a salmon is rare knowledge from what I've seen. Even these basic essential salmon fishing skills are insignificant compared to learning where salmon are usually found and adopting a sub surface focus.
17 Oct 2020
River Tay Fishing Huts
There are many differing styles of hut used these days and many of the newer styles are of Scandinavian design origin. For many years I operated out of an original Victorian hut which had formally been a curling pond hut before it was transported to a new location beside the River Tay and a full renovation carried out. Nothing beats having a well appointed salmon fishing hut to change or dry out in beside a wood burning stove and a kettle.
16 Oct 2020
The Magical River Tay
There's highly potent environmental magic in the riverbank scenery of the River Tay and especially in the middle valley area between the Perthshire towns of Pitlochry & Dunkeld. This lovely shot was taken slightly downstream of the River Tummel/Tay confluence which is indeed a special area of the valley and one where many pristine salmon are landed each year. Book a guided River Tay salmon fishing experience and feel this magic for yourself.
15 Oct 2020
Catch A Perfect Spring Salmon
If you're serious about an introduction into the fascinating world of Scottish salmon fishing via a professionally guided salmon fishing experience Spring is certainly the best time to come. Availability for top salmon fishing venues & the very best professional guides moves rapidly for that time of year as numerous bookings and fresh enquiries appear daily for our renowned services. Place one of these fine specimens at your boots next Spring!
14 Oct 2020
13 Oct 2020
Catching Big River Tay Salmon
We are into a vey special period of the River Tay salmon fishing season where the fish of a lifetime is a distinct possibility. Nothing beats the beauty and power of a heavyweight June fish from Scotland's premier salmon fishing river. Make no mistake about the fact that these very special heavyweight Summer salmon are present in the Tay and can be caught with a correct and tactfully thought out fishing approach.