Salmon Fishing Guides Scotland
Welcome to our newsletter page where Scottish salmon fishing updates will be entered on an ongoing daily basis.
Learning how to fish for salmon correctly is a very important factor as a salmon fishing permit on its own is valueless without the water knowledge, fishing ability & correct salmon fishing equipment levels.
We hope you'll book a guided salmon fishing experience in Scotland and become an entry on this web page.
Jock Monteith
14 Nov 2019
The King Of Fish
Here's a prime example of what a fresh run Scottish Spring salmon from the famous River Tay looks like. There's absolutely nothing in the natural world that comes anywhere close to the excitement of catching one of these amazing fish on a fly rod and make no mistake about that hard fact. It does however require a good degree of skill & understanding to hit objective and that is made far most likely if you're in the company of a professional River Tay salmon guide.
13 Nov 2019
Salmon Fishing On the River Tay
The famous River Tay has many fantastic salmon fishing venues however the middle to upper reaches of the valley where the river terrain opens up has more easily waded fly fishing water than the lower reaches where there's primarily a rock based riverbed with less tapered river margins. Knowing where the best fly fishing is to be found comes with decades of observation and this is one of the many reasons why consulting with a professional salmon guide is important prior to securing your salmon fishing trip.
12 Nov 2019
Learn To Fish For Salmon In Scotland
A guided Scottish salmon fishing experience includes the essential salmon fishing tuition that's so necessary for success and for obtaining an understanding of this fantastic pursuit. A guided salmon fishing day also includes all of the correct salmon fishing equipment levels in addition to chest waders, life jacket & waterproof jacket as having all of the correct equipment levels is vital for a realistic chance of a fish.
11 Nov 2019
River Tay Salmon Fishing
The River Tay is Scotland's largest salmon river which benefits from a huge loch fed headwater catchment guaranteeing good fishable water conditions throughout the salmon fishing season which runs from mid January to mid October. Annual catches on the Tay are obviously directly linked to actual 'rod pressure' and typically between 4,000 to 8,000 salmon are caught each year making it one of Scotland's most productive and reliable salmon rivers.
10 Nov 2019
Guided River Tay Spring Salmon Fishing
Don't double guess where you think you'll find one of these often highly elusive creatures as you can search for years in vain. Trust my judgement based on decades of 'hands on' riverbank experience on the Tay and allow me to arrange the optimal chance of success by placing you on the correct Tay Spring salmon fishing venue with a top professional River Tay salmon fishing guide. It's often false economy to think you'll work this intriguing jig saw out for yourself.
9 Nov 2019
The Best Salmon Fishing Locations
It's very important when salmon fishing on any river that you fully understand exactly where the best chance of connecting with a salmon are to be found throughout the different fishing seasons of the year. Taking guidance from a professional who fully understands this is the best advice I can give you as often salmon are not evenly spread throughout a river system. Careful planning always is required to ensure you're on the correct and optimised fishing areas.
8 Nov 2019
Catching Spring Salmon In Scotland
There's nothing that beats the thrill & excitement of catching a salmon on the fly between the months of January & May. These fish are widely regarded as Springers and they are indeed really magnificent creatures that are a true Scottish national treasure. Now is the best time to book Spring salmon fishing for 2020 while salmon beat fishing access availability is good for the best known Spring salmon fishing venues. Follow this link for guided salmon fishing.
7 Nov 2019
Playing A Salmon On The Fly Rod
The most important thing of all after you've hooked a salmon is to maintain a high rod position at all times during the fight. A salmon will head down deep while it's in danger and will try to rub the hook out of its mouth on the riverbed as I've observed on many occasions. Keep a good bend on the rod throughout the fight and look for some deep slow moving & snag free water to land the salmon in once you've connected. If you've been taught how to set the hook correctly the fight should be stress free & enjoyable.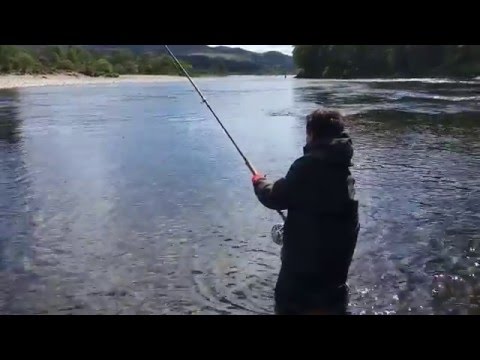 6 Nov 2019
A Flash Of Silver On An Overcast Day
Even on the most overcast Scottish day the flash of silver and the commotion from a fighting fit fresh run salmon is enough to brighten up the dullest of days. This was the second perfect salmon landed by this fortunate client on a visit to the lower River Tay. Weather conditions don't matter at all to a fresh run salmon if your riverbank movement is good enough to eventually swing your salmon fly in front of one (or two as the case may be).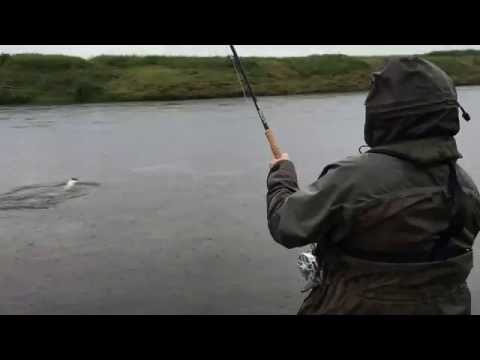 5 Nov 2019
Spring Salmon Fishing Success
There's an amazing thrill involved in the capture of a fine Scottish Spring salmon like this perfect specimen. If you're an experienced salmon angler who knows exactly how to achieve this scenario then good luck for the forthcoming 2020 season which commences in 9 weeks. If you lack success or are new to this amazing pursuit then hiring a professional 'top performing' salmon guide will greatly accelerate your tactical approach and your chances of success.