Salmon Fishing Guides Scotland
Welcome to our newsletter page where Scottish salmon fishing updates will be entered on an ongoing daily basis.
Learning how to fish for salmon correctly is a very important factor as a salmon fishing permit on its own is valueless without the water knowledge, fishing ability & correct salmon fishing equipment levels.
We hope you'll book a guided salmon fishing experience in Scotland and become an entry on this web page.
Jock Monteith
18 May 2022
Searching For The Salmon Lie
Knowing exactly where to focus your attention on a salmon river plays a big part in creating a successful outcome. Take a look at this shot of the one of the fine River Tay salmon pools and you'll see that perfect dark deep pool tail water directly above a fast shallower stream. This is exactly where a running salmon will stop after the exertion of swimming up through the fast water. Often however when you hook a fish at the tail of a pool the first thing it will do is a U-turn back from where it came from!
17 May 2022
Learning To Fish For Salmon
If you're serious about achieving success in this amazing sport you need to get with a professional salmon guide who's been in the business long enough to be able to teach the basic fundamental salmon fishing skills. Catching salmon has little really to do with luck and is much more about effective salmon pool & water column coverage with a solid understanding of how to react to a salmon take when it occurs. Don't leave you success ratio to chance.
16 May 2022
Salmon River Therapy
There's nothing that beats the ambiance and tranquility of a Scottish salmon river which is generally an unseen yet highly attractive component of the pursuit of salmon fishing. It's often difficult to get this message across to new salmon fishers who are looking at this fascinating sport for the first time however this shot is one of my better ones for getting the message across. Book an introduction in the company of a professional salmon fishing guide.
15 May 2022
14 May 2022
Salmon Fishing Tuition Courses
Our renowned Scottish salmon fishing guided days are a true fast track access point into learning the most important salmon fishing skills to allow you to gain instant traction in this wonderful rural pursuit. Whether fishing alone or as a member of a small team of salmon fishing students this service is well worth consideration as without knowledge and understanding of the important aspects of this sport you're more than likely wasting time.
13 May 2022
Salmon River Beauty
Here's a shot from the middle River Tay which was taken during late Spring when the wild lupins were in bloom. The river environment has always been amazing in Scotland and has played a big part in the attraction of Scottish salmon fishing. Do yourself a big favour and test your soul out in a more natural habitat than the concrete one so many of us have been forced to endure. There's way much more to Scottish salmon fishing than most people could ever realise.
12 May 2022
Salmon River Fishing Stealth
Learning how to approach a salmon pool plays a big part in success as far too many salmon fishers make the big mistake of charging straight into the pool to deeply with their chest waders on without realising the damage they're doing to their chances of success. If you study this picture the correct wading line should be 30ft back from the deep dark water seam in other words a minimum of 2 rod lengths so as not to spook any resident salmon that may be present.
11 May 2022
Scottish Salmon Fishing Huts
All top quality salmon fishing venues have a matching top quality fishing huts for the general comfort of their fishing guests through the colder or wetter salmon fishing days. Nothing beats coming into a warm and comfortable fishing hut at lunchtime after a fresh morning out on the salmon river. This shot was taken of a perfect such fishing hut on the famous River Tay at the start of the fishing day before the fishing guests had even arrived.
10 May 2022
A Flash Of Silver On An Overcast Day
Even on the most overcast Scottish day the flash of silver and the commotion from a fighting fit fresh run salmon is enough to brighten up the dullest of days. This was the second perfect salmon landed by this fortunate client on a visit to the lower River Tay. Weather conditions don't matter at all to a fresh run salmon if your riverbank movement is good enough to eventually swing your salmon fly in front of one (or two as the case may be).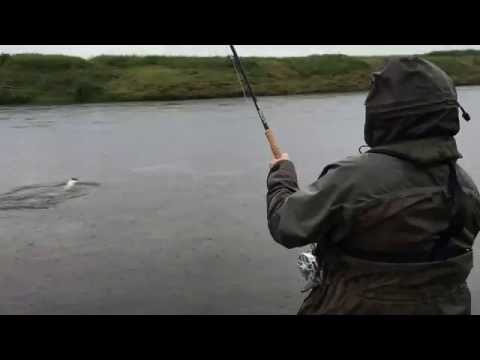 9 May 2022
Catch A Fresh Run Spring Salmon
The beauty & power of a Scottish Spring salmon caught on a fly rod during the colder water Spring months has to be experiences to be fully appreciated. Take the time to introduce yourself to the fantastically 'natural' Scottish pursuit and add a fascinating dimension to your recreational activities. Follow this link for more information on how to book a guided & tutorial Scottish salmon fishing experience as now is a truly great fishing time of the year.