Salmon Fishing Guides Scotland
Welcome to our newsletter page where Scottish salmon fishing updates will be entered on an ongoing daily basis.
Learning how to fish for salmon correctly is a very important factor as a salmon fishing permit on its own is valueless without the water knowledge, fishing ability & correct salmon fishing equipment levels.
We hope you'll book a guided salmon fishing experience in Scotland and become an entry on this web page.
Jock Monteith
26 Jun 2017
Famous Salmon Fishing Beats
When it comes to the River Tay and its famous salmon fishing venues there are none more famous or productive than the Islamouth beat. This photograph of the Long Head pool on Islamouth was taken during late Spring while the wild lupins where in bloom. The Tay is fortunate to have many productive & beautiful salmon fishing ventures that can be accessed fairly easily with a professional River Tay salmon guide to focus your salmon fishing efforts.
25 Jun 2017
Summer Salmon Fishing In Scotland
We are now entering a great time of the fishing season as Summer salmon return home to their native Scottish rivers.  This was a great example from last Summer on the River Tay where this client landed five of these perfect fish over a 2 day period on the lower river. Treat yourself to some Summer fly fishing action during the next 8 weeks and get yourself in amongst the silverware under the experienced eye of a professional River Tay salmon fishing guide.
24 Jun 2017
River Dee Guided Salmon Fishing
Here's a beautiful natural shot from the native broadleaf tree clad River Dee in Aberdeenshire. This is an absolute classic Scottish salmon fly fishing river with many highly experienced and astute professional salmon men in charge of its perfect salmon fishing beats. If you're looking for a quality launch into the world of Scottish salmon fishing in the company of a time served professional salmon guide then the River Dee makes an excellent choice.
23 Jun 2017
Fishing The Fly For Salmon
There's so much more to being successful in Scottish salmon fishing than being able to cast with a 15ft double handed salmon fly rod. Salmon fly selection to suit river conditions, spacing of each cast, stealth of pool approach, controlling the pace of the fly & knowing exactly how to react to the take when it happens are only a few of the topics that are necessary for consistent success in this amazing sport. Book a professional to show you the way.
22 Jun 2017
Scottish Salmon Fishing For Kids
Salmon fishing is a fantastic healthy rural pursuit for youngsters to get involved with. Bringing your son or daughter up to the River Tay or another famous Scottish river is time well spend as there will be a strong chance that this exposure to the beauty and excitement of the salmon river will stay in their minds for life. It is also very likely that the experience you provide for them will become a magnificent life long obsession like it has done for thousands of us.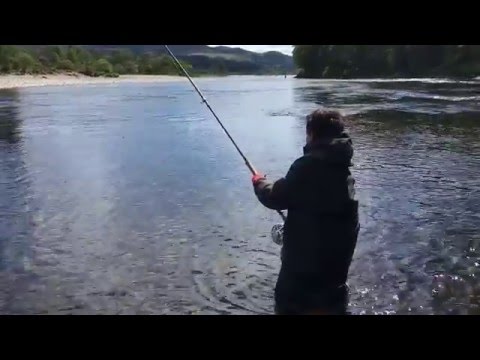 21 Jun 2017
Booking A Professional Salmon Guide
A time served professional salmon fishing guide will be operating on the most primitive of hunting instincts and senses that our far distant ancestors once used for their own very survival. The salmon river environment really does align a professional guide's approach to the most delicate and virtually un-noticeable atmospheric adjustments and very subtle in-river signs when the time is right or a taking salmon is present or has just entered the pool.
20 Jun 2017
Fly Fishing For Scottish Salmon
This lovely shot was captured at the lower end of Scotland's River Tay which is shortly about to come into a class of its own as the usual big head of Autumn Tay salmon appear in its lovely pools, streams & glides. Knowing where to be fishing for salmon on the Scottish rivers is obviously an important building block for optimising your chances of success and the enjoyment of your salmon fishing day. Take advice only from those who truly know.
19 Jun 2017
Boat Fishing On The River Tay
These beautiful hand crafted River Tay fishing cobbles are indeed a work of art. On many Tay salmon beats the boat can be booked as a separate stand alone service if you wish a boat to yourself for the day. On some popular Tay beats there's 2 boats constantly working the salmon lies and a guest rota is agreed at 9am before the fishing commences. Either way it's nice to sample some traditional River Tay salmon fishing tactics on occasion. 
18 Jun 2017
Big Scottish Salmon
An encounter with one of these will stay in your salmon fishing memory banks for life and especially when cyber assisted via a brief Youtube video clip. What cannot be captured these days is the sheer rush of adrenalin you'll experience when you realise shortly into contact with the salmon that you have indeed hooked a real heavyweight as the powerful battle begins. There's nothing that beats an encounter with one of these fine specimen salmon.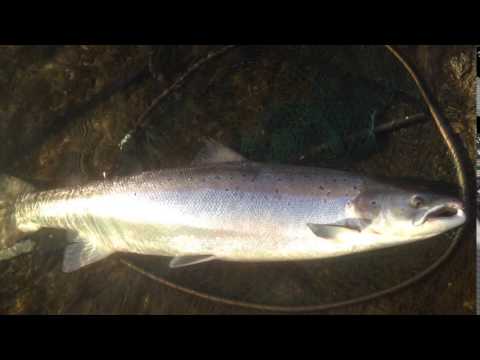 17 Jun 2017
Playing A Scottish Salmon
Here's a short video clip of a young salmon fishing visitor who came to the River Tay with his grandfather to catch a Scottish salmon. It's important when you work hard to make a salmon come to take your fly that you set the hook properly and as importantly you play the fish correctly. A high rod position is important for many good reasons as is letting the salmon pull line off the fly reel when it wants to to avoid excess pressure on the hook hold or your fly's leader.