Salmon Fishing Guides Scotland
Welcome to our newsletter page where Scottish salmon fishing updates will be entered on an ongoing daily basis.
Learning how to fish for salmon correctly is a very important factor as a salmon fishing permit on its own is valueless without the water knowledge, fishing ability & correct salmon fishing equipment levels.
We hope you'll book a guided salmon fishing experience in Scotland and become an entry on this web page.
Jock Monteith
17 Jun 2019
Selecting A Salmon Fishing Guide
If you're looking to select a salmon guide you should make sure they have spent enough daily time studying all aspects of salmon and river behaviour. This means that they should have a full time track record fishing on the salmon rivers of Scotland and as importantly have good experience in dealing with clients. A seasoned professional is the only salmon guide to select to stand the best chances of success while fishing on the Scottish salmon rivers.
16 Jun 2019
Landing A Scottish Salmon
It's one thing having the expertise and knowledge to hook a salmon with a fly rod however there's just as much skill involved in being able to play the fish effectively up until the moment the salmon is ready to be landed. Playing a salmon and knowing when the moment is right to ready the landing net are another set of skills that can be taught by a professional salmon guide. Book a professional River Tay salmon guide to show you how to play and land a salmon.
15 Jun 2019
Salmon Fishing Conditions
It's best not to look for perfect weather & water conditions when you go salmon fishing as you can wait a long time for that and it doesn't necessarily mean you're guaranteed to catch a salmon. Work with what you're faced with on the day and have a tactical plan for every eventuality. This is where the knowledge of a professional River Tay guide becomes invaluable as a 'seasoned' Tay guide will know exactly what the best fishing approach will be on the day.
14 Jun 2019
Salmon River Therapy
There's nothing that beats the ambiance and tranquility of a Scottish salmon river which is generally an unseen yet highly attractive component of the pursuit of salmon fishing. It's often difficult to get this message across to new salmon fishers who are looking at this fascinating sport for the first time however this shot is one of my better ones for getting the message across. Book an introduction in the company of a professional salmon fishing guide.
13 Jun 2019
Learn The Traditional Spey Cast
Having gained the practical hands on experience of teaching & effectively communicating this Scottish 'art form' cast over the decades as a River Tay head ghillie & guide I've devised my own 'unique' and easy to duplicate teaching methods. Like anything in life if you've gained enough hands on experience you'll improve on efficiency. This cast is the easiest cast of them all once fully understood and the teaching methods I've created can be spoken in under 10 seconds and are precisely 100% accurate.
12 Jun 2019
Salmon Fly Presentation Tactics
When a slower fly is required in faster or cold water conditions an effective method for achieving this is to simply hold the rod out after your delivery and mend in order to reduce the angle from rod tip to fly. You can gently swing the rod inwards as the fly completes its journey towards your riverbank. Those who study the fly's speed and depth and adopt a certain 'fly mentality' are always more successful in salmon fishing.
11 Jun 2019
River Dee Guided Salmon Fishing
Here's a delighted fly fishing client on the banks of the beautiful River Dee near Banchory with his first ever River Dee salmon. Catching any salmon is a highly memorable experience but a fresh run fish is the finest one of all as is the fight in the sparkling fast flowing River Dee water. Treat yourself to a professionally guided salmon fishing experience on this world famous Scottish salmon river this year and put yourself in the picture.
10 Jun 2019
Playing A River Tay Salmon
This was a fine Summer salmon from the River Tay which fought hard and was then easily steered towards the landing net. Knowing when to try and land a salmon is important as attempting to land them too soon diminishes the fun in playing them and can often result in their early escape. When the time comes to land a fish then one steady movement towards the sunken landing net with the salmon on the surface and a high rod tip will do the job nicely.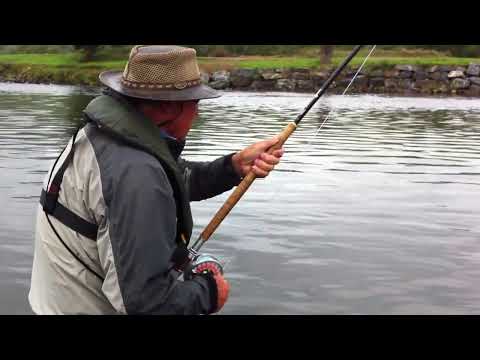 9 Jun 2019
Dunkeld House Salmon Fishing
There's not much of the Tay Valley that beats the natural beauty of the middle valley area around the ancient Perthshire town of Dunkeld. This beautiful shot was taken from the Dunkeld House beat looking downstream towards the commanding Telford Bridge and if you look closely you can see one of the traditional hand build salmon boats out fishing in the Cathedral Stream. 
8 Jun 2019
Knowing Exactly Where Salmon Lie
It's important that you gain a good understanding of your river and exactly where salmon are to be found and especially on a big river like the Tay. So much more effective fishing time can be obtained if your fly is searching the correct areas of the pools which will usually pay off at some point during the fishing day. Once you have this knowledge hooking salmon becomes much easier. This salmon angler's fly is just about to cover one such hot spot.