Salmon Fishing Guides Scotland
Welcome to our newsletter page where Scottish salmon fishing updates will be entered on an ongoing daily basis.
Learning how to fish for salmon correctly is a very important factor as a salmon fishing permit on its own is valueless without the water knowledge, fishing ability & correct salmon fishing equipment levels.
We hope you'll book a guided salmon fishing experience in Scotland and become an entry on this web page.
Jock Monteith
27 May 2022
26 May 2022
Learning Salmon River Stealth
Learning how to approach any salmon pool in stealth mode is always going to give you a salmon fishing advantage. If you study this photograph you'll see the huge error this angler is making by creating a huge downstream seam of disturbed flow as he moves through the pool. A shallow wade out of the main current in a situation like this would give him a far better chance of success especially when fishing a narrow section of river like you see here.
25 May 2022
The Perfect Salmon Capture
Personally I believe that all human beings should break from the technical boredom of modern day society at least once in their lifetime to experience the sheer adrenalin inducing thrill associated with the capture of a super fit heavyweight Atlantic salmon. Follow this link to ease the normally highly complicated arrangement process of arranging  a professionally guided Scottish salmon fishing experience to make this scenario a distinct possibility.
24 May 2022
When A Salmon Runs
The important part when playing a salmon is to keep the rod as high as possible to act as a shock absorber against sudden movements from the fish and as importantly to stop the salmon from drowning the fly fine which can place too much pressure on the hook hold. In addition to this never ever try to stop a salmon from running when it wants to go as it will end in a broken leader and lost fish. You can clearly see from this video the immense power a running salmon possesses.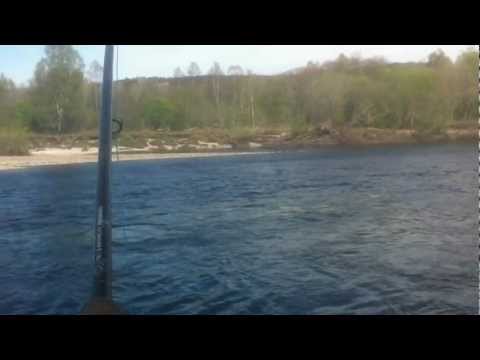 23 May 2022
Dusk On The River Tay
Dusk on any Scottish salmon river is an interesting time for observing salmon pools for signs of life as often salmon will move up river as the light starts to fade at the end of the fishing day. I would say that on the deeper River Tay this dusk activity is more frequent than on the shallower Scottish rivers as the Tay's huge loch fed catchment always supplies more consistent salmon running water conditions and never gets too low for salmon to move.
21 May 2022
Learn To Catch River Tay Salmon
Here's a fine shot of a perfectly conditioned River Tay Spring salmon seconds before its safe release back to the river. Until you've had this perfect Scottish pursuit presented properly to you by a professional career based salmon guide who's on top of their game you'll likely have no idea the magic that goes hand in hand with being surrounded in some of the most amazing natural river habitats Scotland has to offer. Follow this link for details of our quality assured guided River Tay salmon fishing experience.
20 May 2022
Free Spirit Salmon Fishing
There's something to be said for being out on a salmon river where it's just you and Mother Nature in pursuit of one of her finest creations. Unleash yourself on the wild Atlantic salmon rivers of Scotland and set free your spirit for a day or two. If you do you'll feel like a true weight has been lifted off your shoulders and if you arrange this with a professional salmon fishing guide you'll very likely stay in this fascinating natural pursuit for life.
19 May 2022
River Tay Scenery
Here's a well timed shot of Perthshire's fabulous River Tay which is renowned as being one of Scotland's top performing salmon fishing destinations. The Tay has a huge headwater loch fed catchment which means water conditions are always favourable for running salmon to ascend. Fresh salmon enter the Tay off every tide of the year and especially from mid March onwards each year when the Spring run appears and continues all the way through to early June. Book now for 2022 while availability remains.
18 May 2022
Searching For The Salmon Lie
Knowing exactly where to focus your attention on a salmon river plays a big part in creating a successful outcome. Take a look at this shot of the one of the fine River Tay salmon pools and you'll see that perfect dark deep pool tail water directly above a fast shallower stream. This is exactly where a running salmon will stop after the exertion of swimming up through the fast water. Often however when you hook a fish at the tail of a pool the first thing it will do is a U-turn back from where it came from!
17 May 2022
Learning To Fish For Salmon
If you're serious about achieving success in this amazing sport you need to get with a professional salmon guide who's been in the business long enough to be able to teach the basic fundamental salmon fishing skills. Catching salmon has little really to do with luck and is much more about effective salmon pool & water column coverage with a solid understanding of how to react to a salmon take when it occurs. Don't leave you success ratio to chance.