River Tay Salmon Fishing Guide
Welcome to our newsletter page where River Tay salmon fishing updates will be entered on an ongoing daily basis.
Learning how to fish for salmon correctly is a very important factor as a salmon fishing permit on its own is valueless without the water knowledge, fishing ability & correct salmon fishing equipment levels.
We hope you'll book a guided River Tay salmon fishing experience and become an entry on this web page.
Jock Monteith
14 Nov 2015
Salmon Fishing Guide Scotland
You can't beat the smile produced by several pounds of Greenland silverware when they're briefly encountered for a photograph. There's such a thrill in catching a wild salmon on the fly as achieving this is often not instant gratification like most things in modern day society but instead a gradual careful build up involving time, effort and patience. Under the experienced & watchful eye of a professional time served guide who has the riverbank 'sixth sense' then this process can be accelerated.
13 Nov 2015
Salmon Fishing Gift Vouchers
Here's a shot of a happy salmon fisher on his first days salmon fishing with a fine River Tay salmon in the landing net in the perfect Spring sunlight. Treat a loved one or colleague to an encounter with the most 'iconic' fish of them all this Christmas on the mighty River Tay. The Tay is Scotland's number one Spring salmon fishing venue.
12 Nov 2015
Salmon Fishing Conditions
They say salmon won't take in bright light conditions but looking back over the many captures I've been involved in over the decades I'd take a brighter day over a dull one of I had the choice. This is even more relevant during the early cold Spring months when the warmth of the sun can lift the top layer of the water's temperature which often induces some action. Here's a strong fish being played on a very bright day this year during early September on the Tay.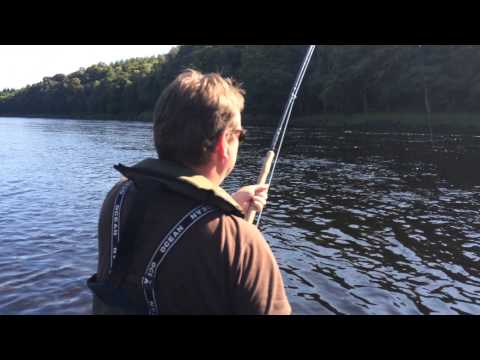 11 Nov 2015
Summer Smiles From The River Tay
Here's a delighted salmon fishing guest with a beautiful piece of River Tay silverware prior to its release. Salmon fishing success doesn't come instantly in the majority of cases so when a perfect fish like this eventually takes your fly it makes the entire experience even more worthwhile. Consistently correct & methodical coverage of any salmon river in the likely areas where salmon are holding always dramatically increases your chances and that's where a professional salmon river guide can be of benefit.
10 Nov 2015
Glendelvine Water River Tay 7th October 1922
And still the undisputed British heavyweight champion of all time!! "The 'beast" as this fish was referred to by its captor Miss Georgina Ballantine of Victoria Cottage, Caputh, Perthshire when she accompanied her father on the river when the Laird decided not to fish that particular day. I took this shot of this magnificent cast which is on display in the Perth Museum. It's well worth a visit just to see the sheer size proportions of this spectacular & famous Tay salmon.
9 Nov 2015
Learn The Traditional Scottish Speycast
As part of a guided salmon fishing day on the mighty Tay you'll be taught how to use a double handed 15ft Spey rod and the important things to remember during the 3 stages of the cast. If this is effectively drummed into you then you'll quickly be in a position to self analyze your own form and real progress occurs quickly. Although books are written about Speycasting the important basics can be highly accurately described in under 10 seconds.
8 Nov 2015
Playing A Salmon On The Fly Rod
When a good fish get's hooked it's important you take your time and maintain a high rod tip position which will minimize the chance of the salmon getting the line wrapped around sub-surface obstacles. This also allows the rod to do its job in tiring the fish and safeguards against sudden hook dislodging pulls. Try to get opposite the fish so that the pressure on the hook isn't directed in an 'out of mouth' direction. Also look for some calmer slacker water to play the fish in so you are not playing the current too.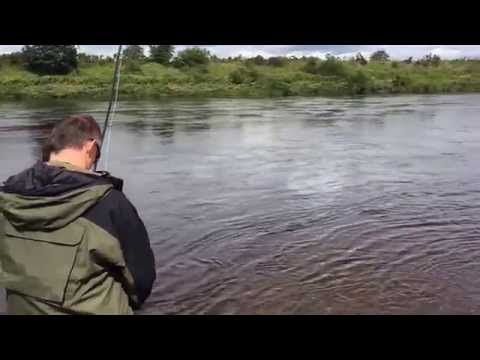 7 Nov 2015
Getting Closer To The Springer Zone
Here's another great visual on exactly why the Spring salmon in Scotland's rivers are regarded as being the finest salmon of them all. This amazingly proportioned specimen was briefly interviewed close to the River Tay & Tummel confluence during the month of May. The gentle tugs on the fly and draw off the reel in the cold Spring water should never be underestimated.
6 Nov 2015
Catch Youself A Heavyweight Tay Spring Salmon
This was a fine River Tay Spring salmon of 27 lbs that I was fortunate to briefly interview a few seasons ago while our for a few casts. Every season Spring salmon in this category are caught on the River Tay and anytime from mid January through to the end of May they are present. After catching many salmon in the 8lbs to 16lbs class it is always special when a heavyweight shows up.
5 Nov 2015
Fishing The River Tay In March
Here's the reason why we go out during the colder early Spring months of the River Tay salmon fishing season. An encounter with one these fine salmon is what helps to pass the slow moving close season Winter months. This particular specimen was caught during the month of March which has always been a special time of the Scottish salmon fishing season.