News Stories / By Jock
May 19, 2013
Releasing River Tay Salmon

Here's another lovely Spring salmon being released in the perfect Spring sunshine. Of the 30 plus Spring salmon landed this season on Upper Kinnaird all but one fish were successfully returned.
May 18, 2013
River Tay Salmon Fishing Guide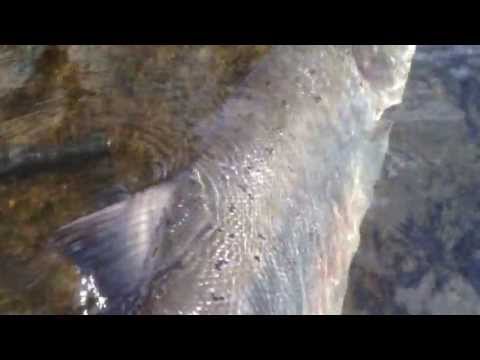 Here's yesterday's big Tay salmon being released at the Rock Pool on Upper Kinnaird. There's clearly a few of these big fish in the river just now so fingers crossed for some more of these perfect heavyweight Spring salmon in the coming weeks.
May 17, 2013
Big Spring Salmon River Tay

After spending all day away from the Tay I took an hour to visit the Rock Pool on Upper Kinnaird late this afternoon. This perfect 27 lbs Spring salmon was waiting to say hello to me !!
May 16, 2013
The Salmon Fly

The salmon fly is the most fascinating aspect of salmon fishing. Thousands of different patterns have been created and to my mind it's mainly about faith as they only ever take the one you're using ! Like most things in life it can often be a result of being in the right place at the right time when a salmon takes your fly.
May 15, 2013
River Tay Ghillie Service

Here's delighted Derek Blair with a cracker of a 12 lbs Spring Salmon caught in 'The Channel' pool on Upper Kinnaird this morning. A good head of these fine fish have now moved into the area so prospects are looking good.
May 14, 2013
Salmon Fishing Ghillie River Tay

Here's the second of 2 perfect Spring salmon caught on the Tay this morning on Upper Kinnaird. This was this particular salmon beat's 30th Spring salmon which is remarkable given the fact it has been so lightly fished this year.
May 13, 2013
River Tay Salmon Fishing Guide

Here's a beautiful Summer shot of a salmon being played at the Steps Pool on the Newtyle Beat. This shot was taken by superb cameraman Mike Helliwell who is also the master rod builder at Harrison Rods in Liverpool.
May 12, 2013
Salmon Fishing Instruction Scotland

By engaging the services of a 'time served' professional salmon fishing guide you will benefit from not only being shown the best fishing tactics but you'll also gain an important understanding of salmon behavior.
May 11, 2013
River Tay Salmon Fishing Guide

Here's Nick Hodges from London with a lovely Spring salmon from the River Tummel. The salmon that are caught in Scottish rivers at this time of the salmon fishing season are in perfect condition like this.
May 10, 2013
River Tay Salmon Pools

Here's one of the salmon lies at the tail of the Rock Pool on Upper Kinnaird. In high water like what you see here salmon sit right on the edge of the wake created by the submerged rock in the picture.
Home // All Authors // Search // Subscribe (RSS)